Tree Services: Pruning, Removal, and More
Call us today to have your tree service needs taken care of by licensed professionals. Our team of certified arborists perform all of the necessarry jobs to bring your property's trees to their top form and keep them that way for years to come.Call 215.309.8700 to schedule a free consultation. No job is too big or too small for Liberty Tree & Landscape Management!
Fulfilling Philadelphia's Tree Service Needs
Our experienced arborists have been working with properties in the Philadelphia area for years. We're well-versed in the unique challenges that come with this region's weather and geography. Because of this experience, we are able to provide the best care, and the most effective treatments for trees.
Our Essential Tree Care Services:
We'll trim trees of all sizes to benefit the appearence and overall health of the tree. Our expert team of arborists are educated on modern tree care techniques and prune branches to be healthier, better looking, and safer for the surrounding property.
Don't trust this task to just anyone. Professional tree experts will plant your trees in the right spot, at the right depth, and with the right guidance to grow a magnificent new tree that will add beauty to your property for generations.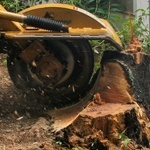 Tree & Stump Removal
Pesky stumps can be an eyesore and can get in the way of future landscaping projects. Our team will make short work of any sized stump.
Don't give up on your trees if you find they're getting sick or having trouble with insects. Our certified arborists will bring your trees back to their healthiest state with modern, environmentally friendly techniques that are effective and safe for surrounding plant life.
Cabling and bracing trees is essential for certain tree types to thrive in many environments. Our professionals can provide this service without damaging the tree or ruining the property's aesthetic. Only trust an expert with this task.
Mulching is a visually appealing way to provide moisture retention and essential nutrients to trees and other plant life in your gardens or elsewhere on your property. We use high-quality mulch and apply it with a professional touch that will add an unmistakable charm to the area.
Provide the nutrients your trees need to grow and blossom for years to come. Our arborists will lay the right type and amount of fertilizer for the species of tree you need to care for.
Don't wait until after winter's next big storm takes its toll on your property. Remove hazardous branches and trees from your property with the experts at Liberty Tree & Landscape Management.
Call us any time to get a trained professional to your property for emergency tree care. Downed branches can be a hazard that needs to be cared for without delay.
Free Consultation
Please click here if you want to have a free consultation and learn more without obligation.